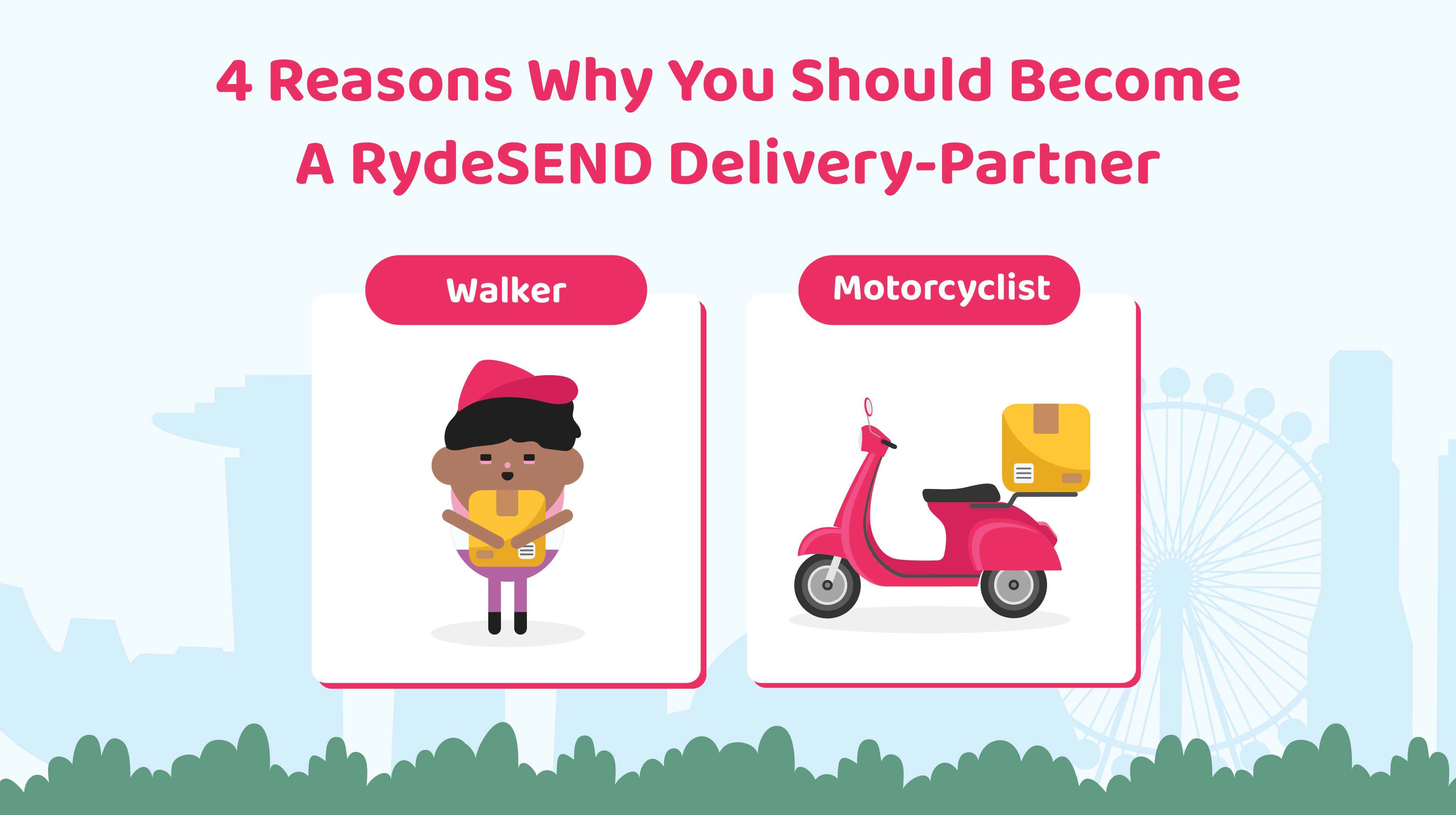 Ryde is a local ride-hailing platform that has fulfilled millions of trips since inception. In 2018, we launched our on-demand delivery service, RydeSEND, as a natural extension to our car-pooling and ride-hailing services, to maximise earning opportunities for drivers on our platform.
In order to meet rising demands, we have launched the option for motorcyclists and walkers to become delivery partners on our platform! If you are looking for a flexible gig with high earning opportunities and good bonuses, consider becoming a delivery-partner with RydeSEND today!
Key benefits of becoming a delivery partner with Ryde:
Flexibility: Choose your trips and destination as there are no assigned trips on Ryde. As our delivery-partner, you will have full control over where and when you wish to work, and have the freedom to balance your delivery gig with other commitments. Whether you're looking for a side hustle or a full-time job, Ryde provides the flexibility you need to succeed.
Competitive Fares: Ryde offers competitive fares on its delivery jobs and various weekly time-limited bonuses, making it an attractive opportunity for those looking to earn additional income.
High Volume of Delivery Jobs: As a delivery-partner with Ryde, you'll have access to a wide range of delivery jobs, including food, groceries, and packages. This means you'll never run out of delivery requests and can always find work that fits your schedule and preferences.
Supportive Community: The Ryde community consists of other supportive delivery partners who are committed to helping each other succeed. Whether you have questions about the delivery process, need help with a delivery, or just want to connect with like-minded individuals, Ryde's community of delivery partners is there to support you every step of the way.
Becoming a delivery partner with Ryde is a great opportunity for those looking for a flexible and rewarding gig. With competitive earnings and maximum flexibility, sign up today and start earning money on your own terms with Ryde.
Be sure to join our Telegram channel to get the latest updates on Driver bonuses. Earn $50 RydeSEND bonus today!