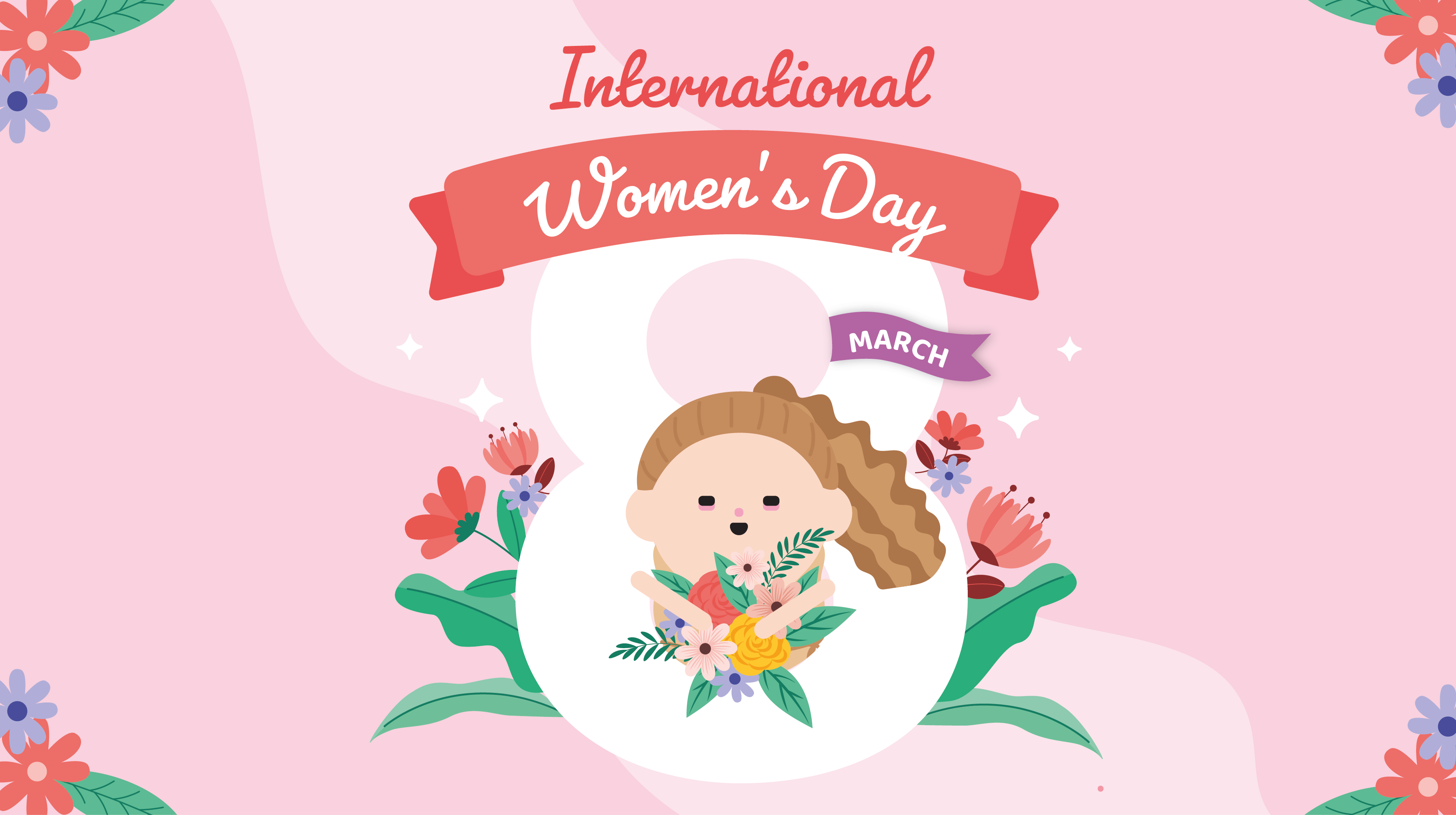 Ever wondered what it's like to be a female Ryde driver in Singapore, navigating the roads and challenging gender norms every day? This International Women's Day, Ryde sat down with Joyce and Siti to learn more about their journeys as female private-hire drivers in Singapore. Both women shared a passion for driving and a desire to make a positive impact on their passengers' lives. They also spoke candidly about the challenges they face, from dealing with difficult passengers to facing discrimination on the job.
Meet Ryde's Female Driver-Partners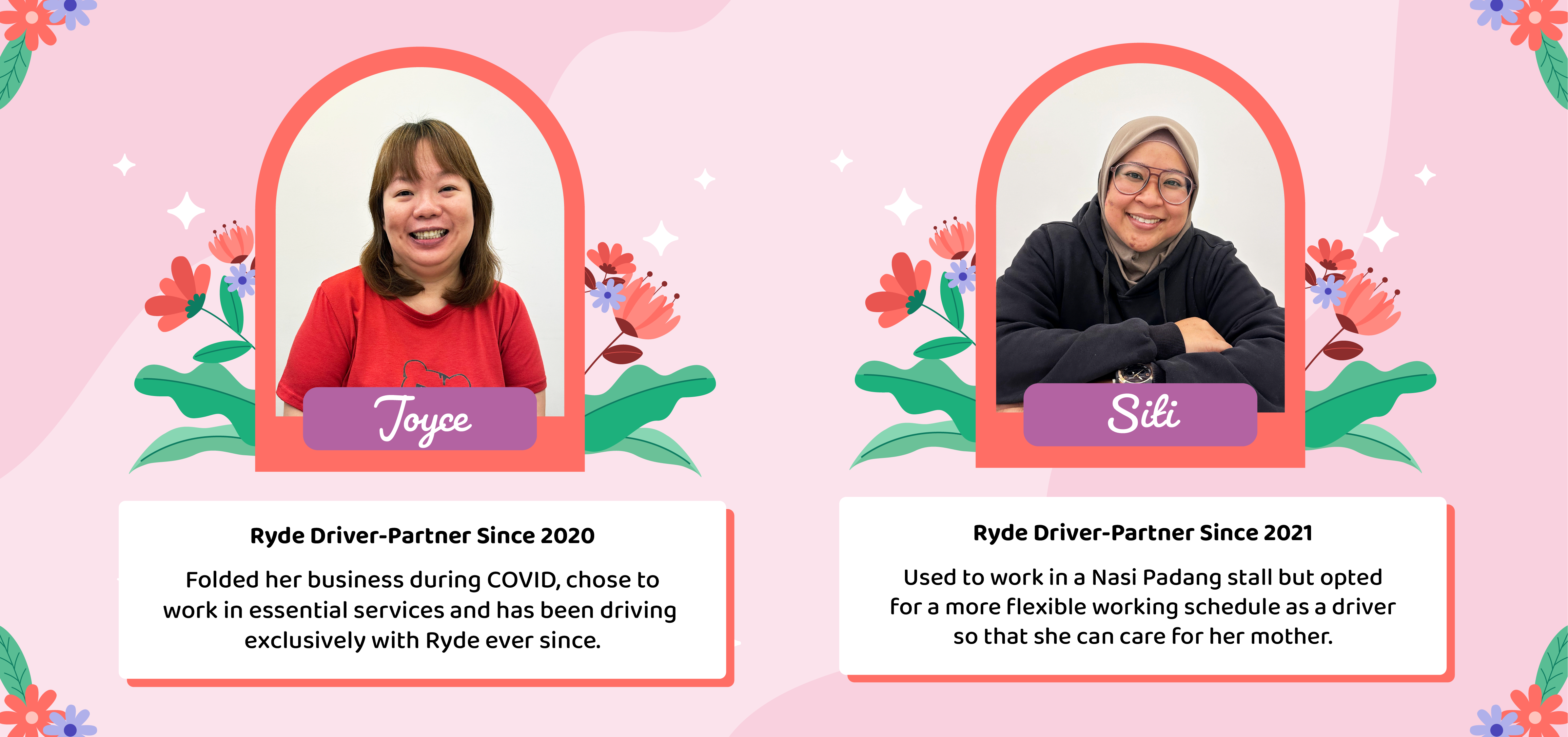 "Why did you become a Private-Hire Driver?"
Joyce, a former business owner, faced significant challenges during the COVID-19 Circuit Breaker period when her business was deemed "non-essential'. Eventually, she made the decision to close down her business and looked towards ways of becoming part of the "essential services" industry. Among many options, she ultimately found herself becoming a driver with Ryde.Siti always had a passion for driving. Before she found herself in the ride-hailing industry, she used to help her aunt run a nasi padang stall in Temasek Polytechnic. A few years ago, Siti's mother suffered a stroke which prompted her to look for alternative ways to earn an income while having a flexible work schedule. She needed a job that allowed her to work "OTOT" (own time, own target), and thus she became a private-hire driver so that she could be her mother's primary care-giver.
"What do you like most about being a Private-Hire Driver?"
Both Joyce and Siti expressed that one of the biggest takeaways from being a driver is the relationships they get to build and the impact they can make on some of their female passengers. Joyce shared that some passengers do brighten up her day and can teach her much about life, while Siti commented that she tries to provide a listening ear and a safe space to her passengers when needed.
"How do you think your experience would be different if you were a male Private-Hire Driver?"
As a driver-partner, it is not an uncommon occurrence to encounter passengers who were experiencing emotional distress during their ride. Joyce shared that she once picked up a young lady who was going through a difficult time and had a lot on her mind. The struggling passenger found solace in being able to open up to Joyce about her ongoing personal issues. However, driver-partners agreed that providing a safe and comfortable ride for passengers ultimately comes down to the individual driver's character, rather than their gender.
While Siti and Joyce don't believe that gender affects their ability to provide a safe ride, they shared that there is one thing they tend to do more often as female drivers. Specifically, when they drop off female passengers late at night, they will wait and watch their passengers ascend the lift. This small gesture helps to ensure that their passengers reach their destination safely and provides an additional layer of security for those travelling alone at night.
"What is the biggest obstacle you've faced as a female Private-Hire Driver?"
Joyce shared that she has had uncomfortable experiences with intoxicated passengers of the opposite gender. She expressed that she tends to be more cautious of the passengers she picks up at night, and prefers to accept trips booked by female passengers or those with a higher trip-count for safety reasons. One reason why Joyce chooses to exclusively drive with Ryde is because it gives her the freedom to select her passengers, which brings her a great deal of comfort, especially when she's driving late at night as a female driver-partner.
"Have you experienced instances of discrimination as a female Private-Hire Driver?"
Siti responded that she had experienced some discrimination on the job and shared an instance where a passenger was demeaning towards her and her profession. She elaborated that as much as his insults were demoralising, she reminded herself to remain professional and complete the ride without retorting. This highlights the importance of treating our drivers with kindness and respect, and recognise that they are simply trying to do their job to the best of their ability.
"Why is International Women's Day important to you?"
Siti explained that society often perceives women as the weaker gender and International Women's Day serves as a platform to remind the world that women are strong and capable, and that their contributions to society should be recognized and celebrated. Joyce believes the International Women's Day gives women the recognition they deserve; women deserve to be encouraged and appreciated at their highs and lows.
"Do you have any advice to give to other women who are thinking of starting their career as driver-partners?"
This is a common question that both women have received from female passengers. Here are some of their helpful tips:
You will need a Private Driver's Vocational License (PDVL) in order to become a private-hire driver. This is a relatively quick process that can be done through LTA.
If you own your own car / family car, you can start off with a "trial" by becoming a car-pool driver.
If you need to rent a vehicle, start off with a short lease (3 months) and a cheaper vehicle, so that you get a feel of the industry before committing to a longer lease and going into this full-time. It's important to trial this for a few months to get a better idea of what life is like as a private-hire driver.
Ryde is a great platform to get started on for a few reasons: you don't need a brand new car to become a private-hire driver, so that drives down your starting costs and you can rent a cheaper car. Also, the incentives are good and realistic. Drivers are not required to work extremely long hours in order to achieve these incentives, so you can ease into it.
International Women's Day is a global celebration of women's achievements and a call for gender equality. We were thankful to our female driver-partners, Joyce and Siti, for sharing their experiences with us with candour and elegance. By providing equal opportunities for women in the ride-hailing industry and improving safety for women passengers, Ryde hopes to create a more inclusive workforce and supportive community.
If you would like to watch snippets of the interview, we encourage you to watch our clips on TikTok here:
Have you been inspired by Joyce and Siti? Join us today!