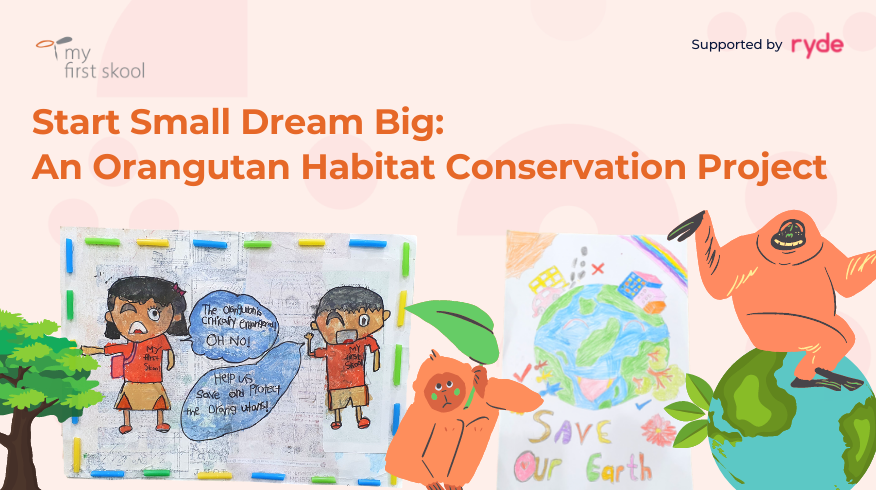 Here at Ryde, we are always on the lookout for ways to uplift our community; in an effort to support those who are doing better for our communities and our environment, we would like to highlight My First Skool's participation in Start Small Dream Big (SSDB) project that was initiated by Early Childhood Development Agency (ECDA). The aim of this initiative is for preschools to create authentic platforms for children to innovate, problem-solve and tap on their unique strengths to help others.
My First Skool Parkway Parade advocation for the Orangutans.
Can you imagine a world without Orangutans? The tragic truth is that this can soon become a reality. What about doing your part to protect them? My First Skool Parkway Parade class of 2021 K1 children are calling upon all Singaporeans to help protect the Orangutans by going green! Yes, by salvaging used packaging, plastic bottles, papers used at work or school as well as purchasing recycled products where possible, you will be doing your bit to save the homes of the Orangutans as well as our earth! In My First Skool Parkway Parade, our K1 children had experienced first hand on making papers from scratch out of unwanted papers such as newspaper, magazines, packaging paper, etc. From that experience, they understood the fact that many trees have to be cut down just to make one ton of paper, and the more papers they use, the more trees have to be cut down. Children also explored many different ways to reuse our everyday plastic bottles from creating a bird feeder to recycled bags. However, we can only do this much in school. What about our families, friends and everyone in Singapore? Ultimately, we hope that through the advocacy, many more people will understand how our actions daily could impact the well-being of the wildlife because…

"No one can do everything but everyone can do something".

 Let's GO GREEN, MAKE A DIFFERENCE, SAVE THE EARTH!

让我们节约,环保,救地球!
Student Showcase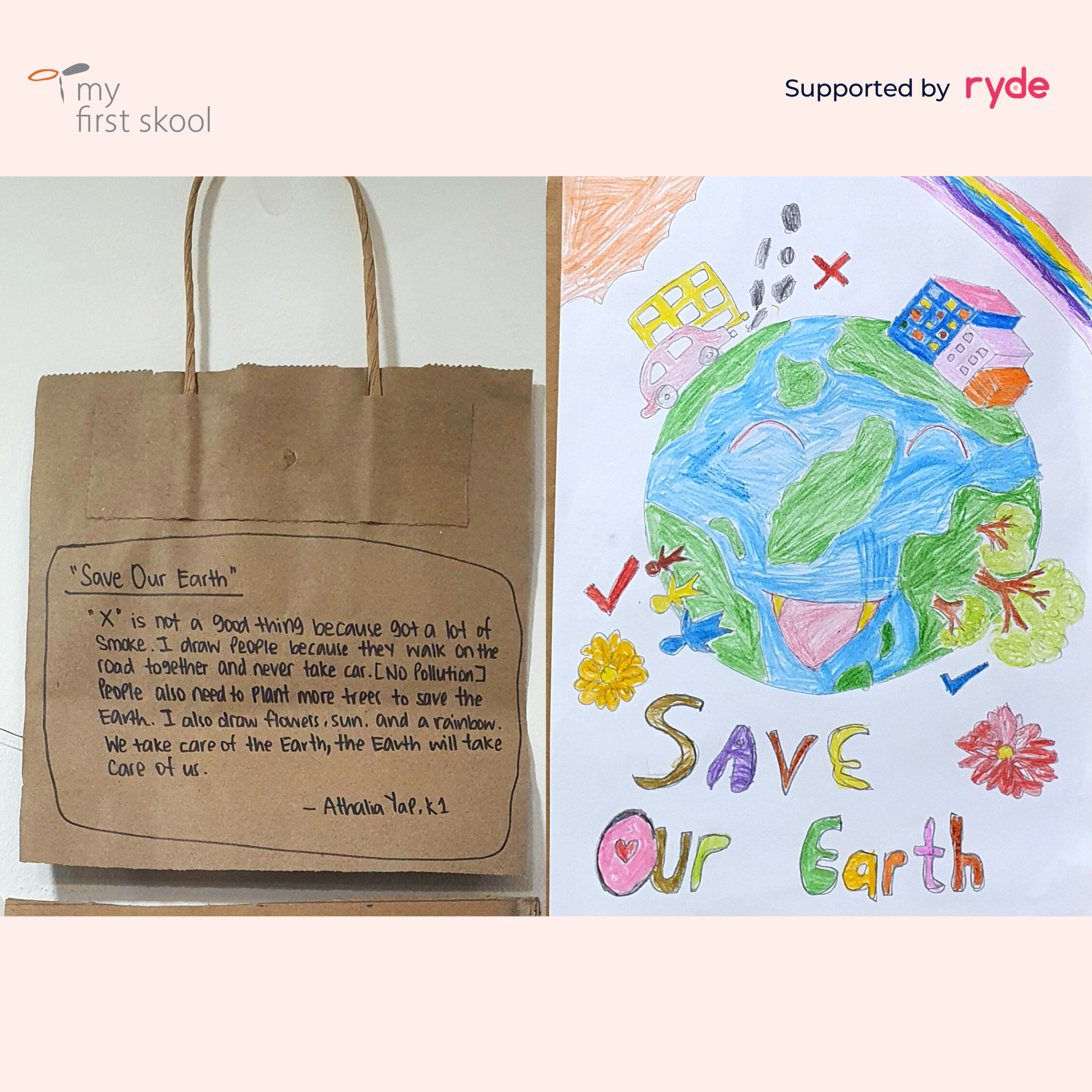 Lesser pollution results in a happier world that would in turn, take care of us – well said!
Artwork credit to Athalia Yap En Qi

Mid -autumn festival might be over, but you can still light up the dark with this skilfully crafted handmade lantern.
Artwork credit to Katie Ang

An impactful piece done on recycled paper, with a great message: Save paper, Save forests.
Artwork credit to Hanna Mi Wanhe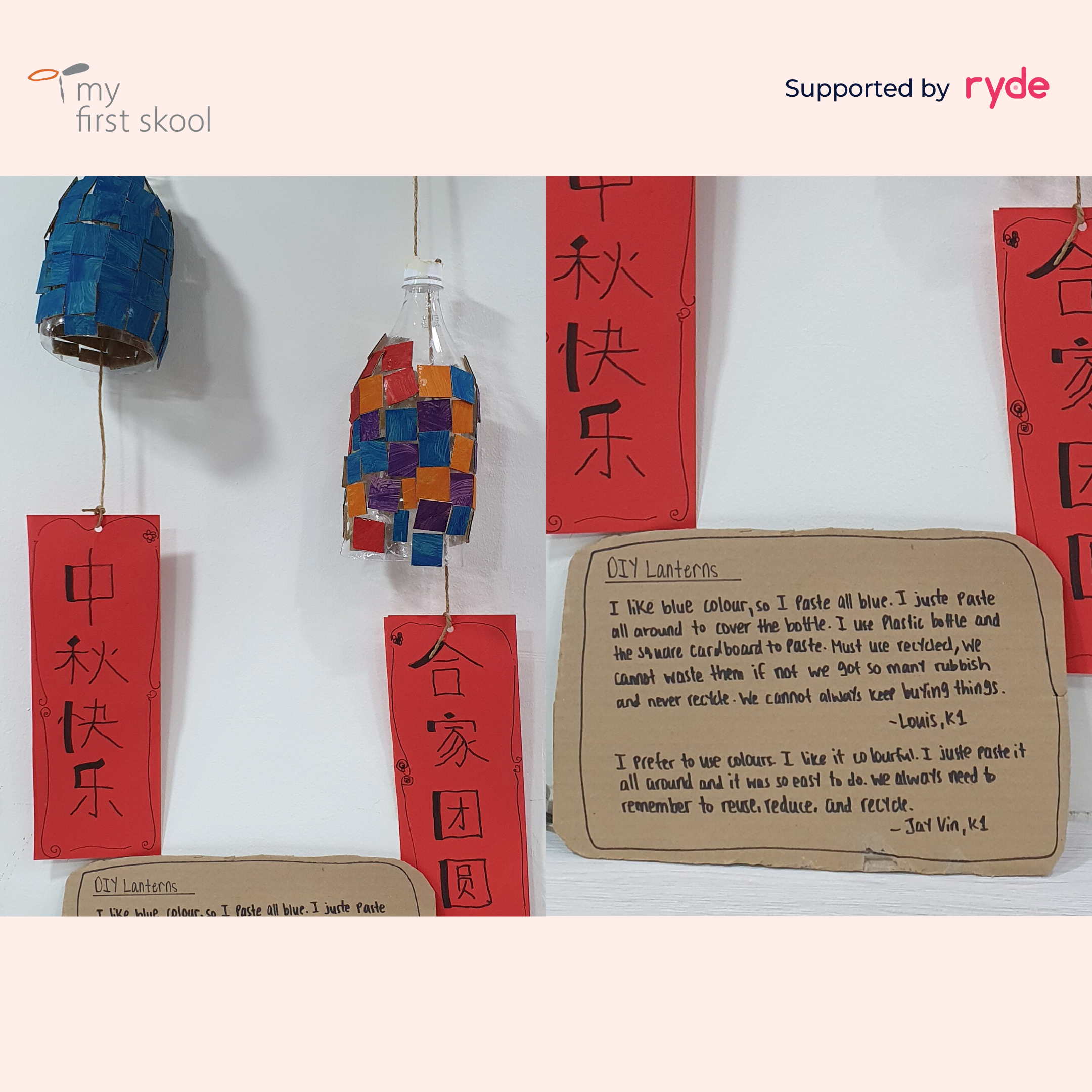 A different take on handmade lanterns, these come with customised greetings instead!
Artwork credit to Louis Xu Jun Dong and Yeoh Jay Vin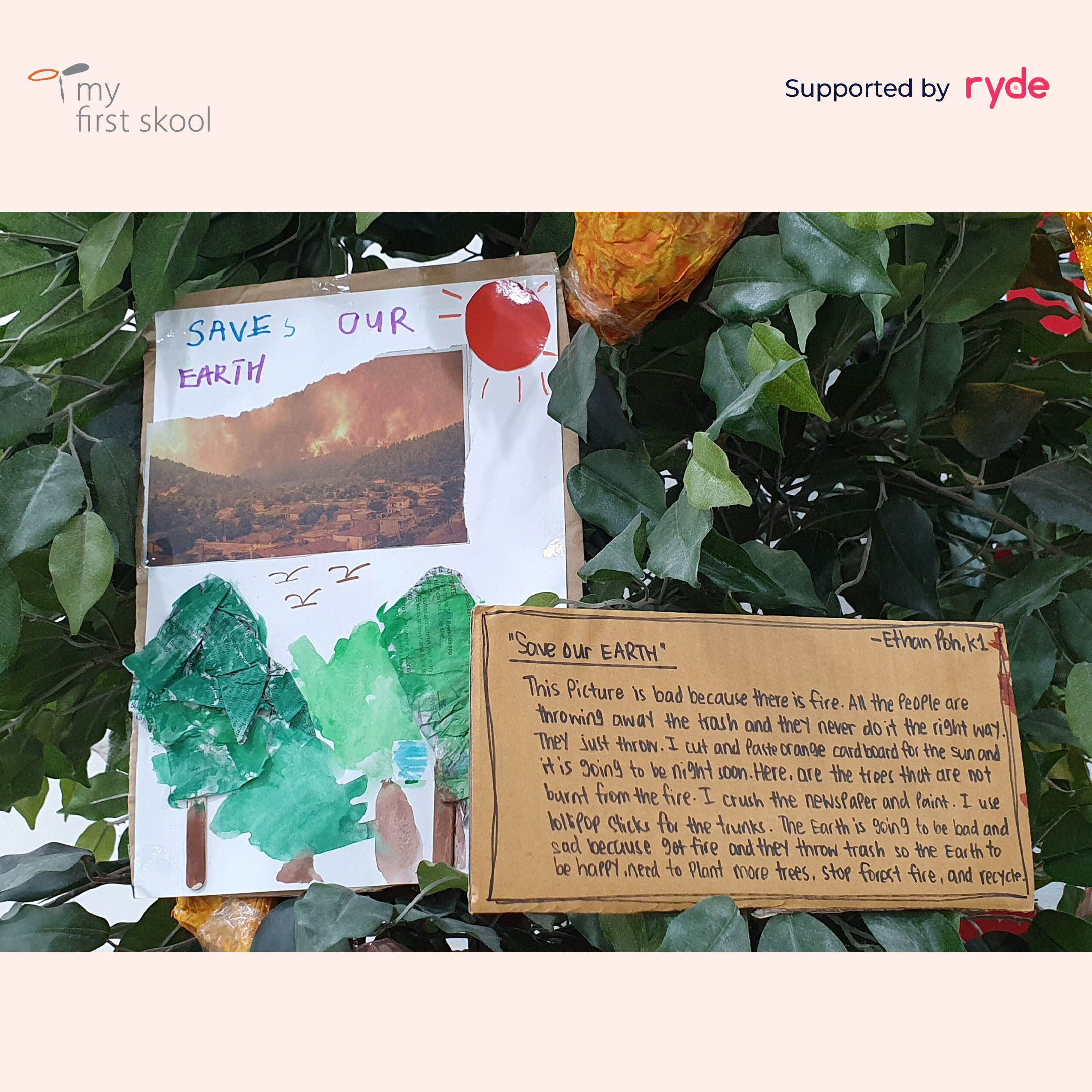 Forest fires are devastating to natural habitats. Here, we are urged to recycle when we can instead of wastefully disposing our trash.
Artwork credit to Poh Ying Jie Ethan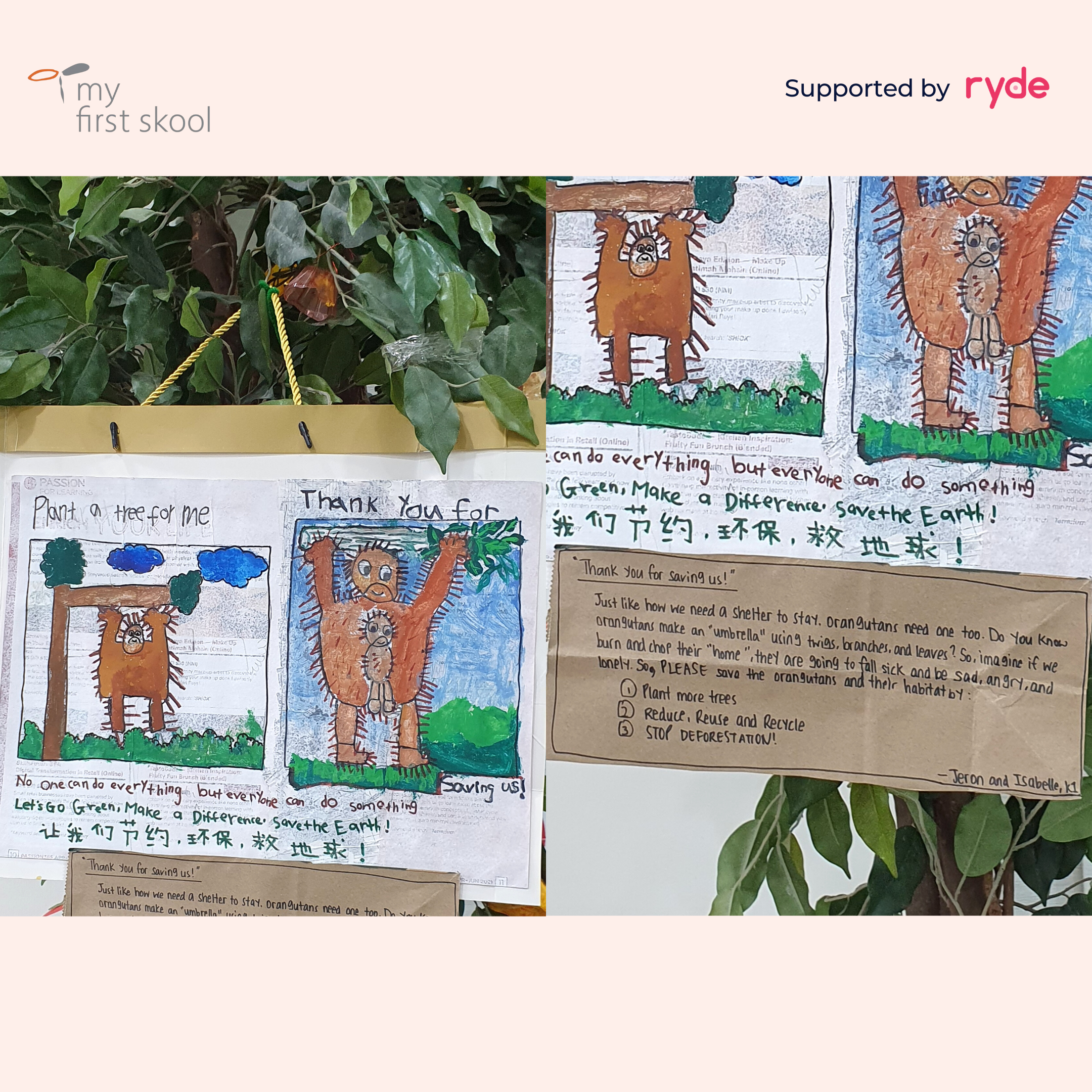 Animals build their homes themselves by utilising twigs and leaves to create their own shelter.
Artwork credit to Jeron Yim Chung Ting and Tang Yi Xuan Isabelle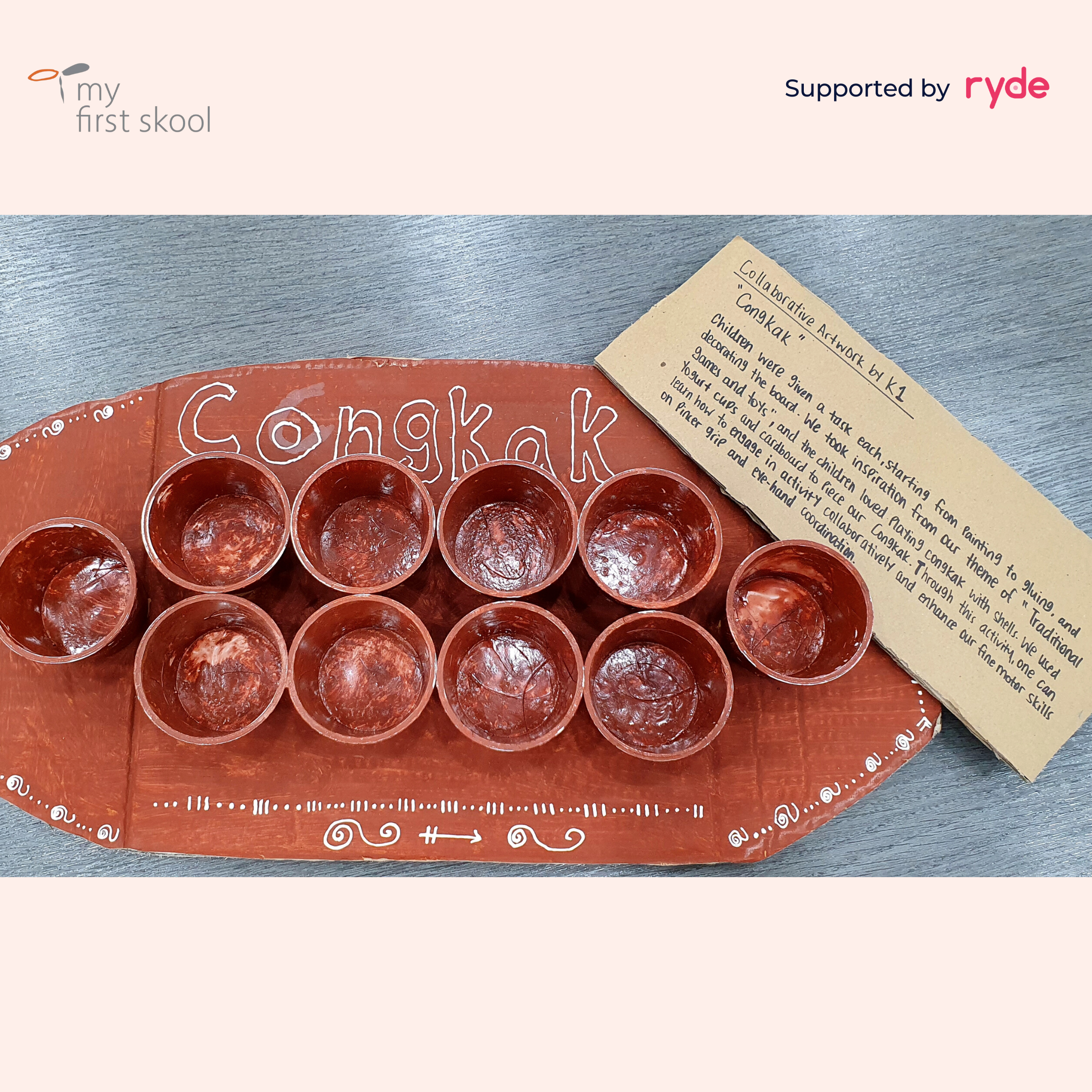 Here is a collaborative art piece that can be used to play a traditional game of Congkak. What's better than fun? Recycled fun, of course!
Artwork credit to Tan Shi En Madeleine, Clyden Ong Wee Siong and Quek Shun Hao Jayden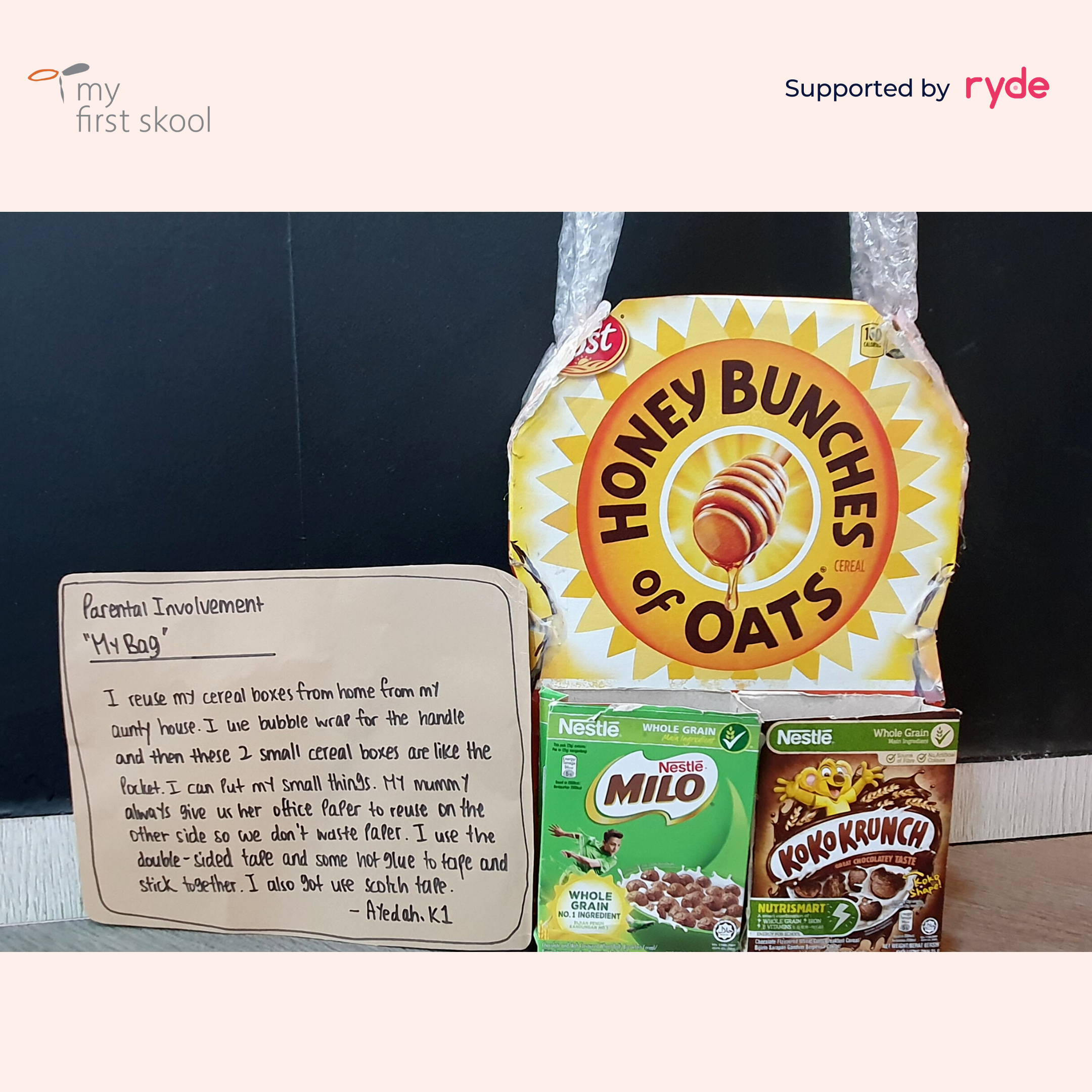 A bag made from repurposed materials – the straps were made with bubble wrap, a brilliant addition to avoid sore shoulders!
Artwork credit to Ayedah Nur Binte Indra Shahrir

Nothing beats having a personalised toolbox to carry around your most important work gear!
Artwork credit to Jonah Lim Cheng En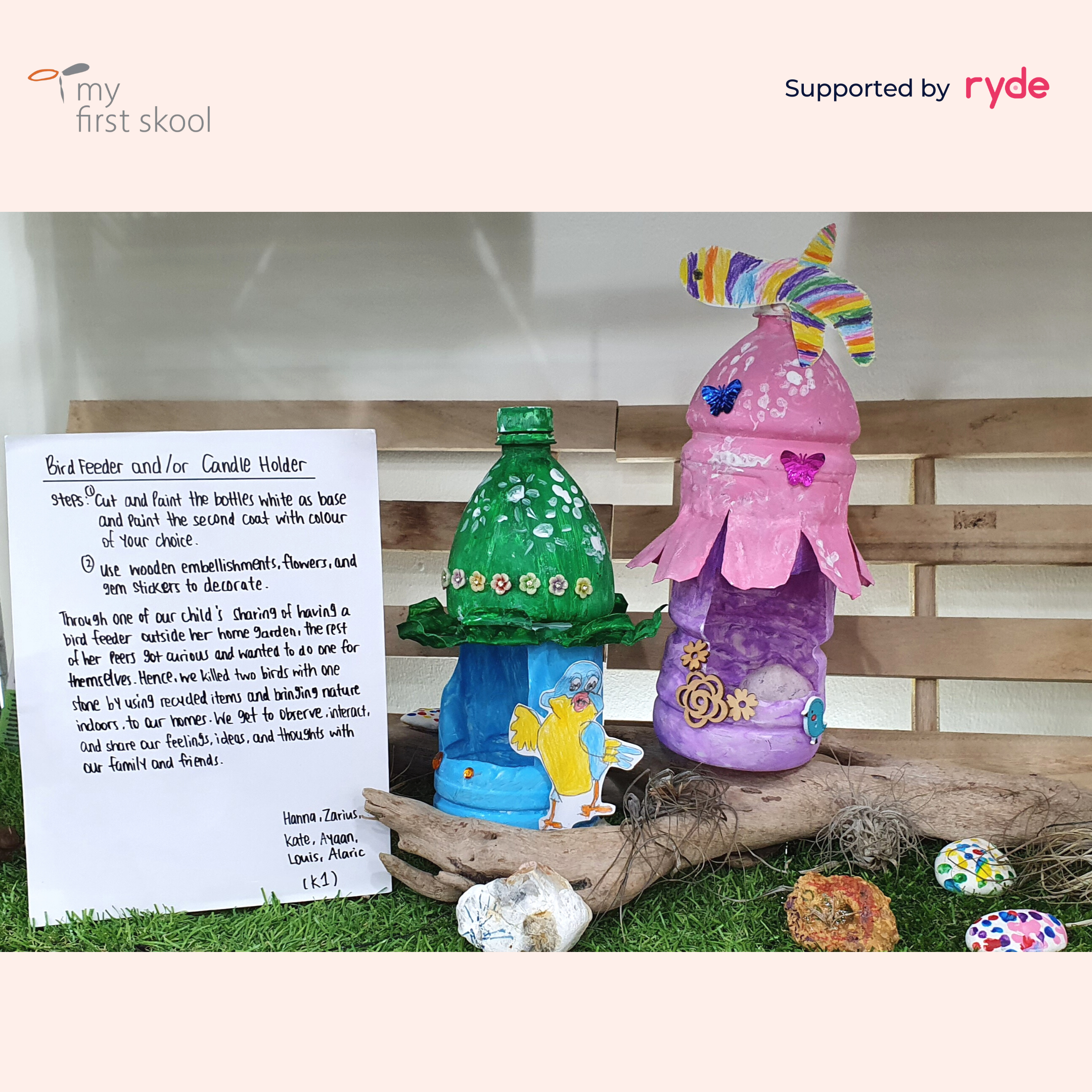 This multipurpose recycling project demonstrates how we can make our own bird feeder or candle holder with plastic bottles we find at home, instructions included!
Artwork credit to Mohamed Ayaan Lakdawala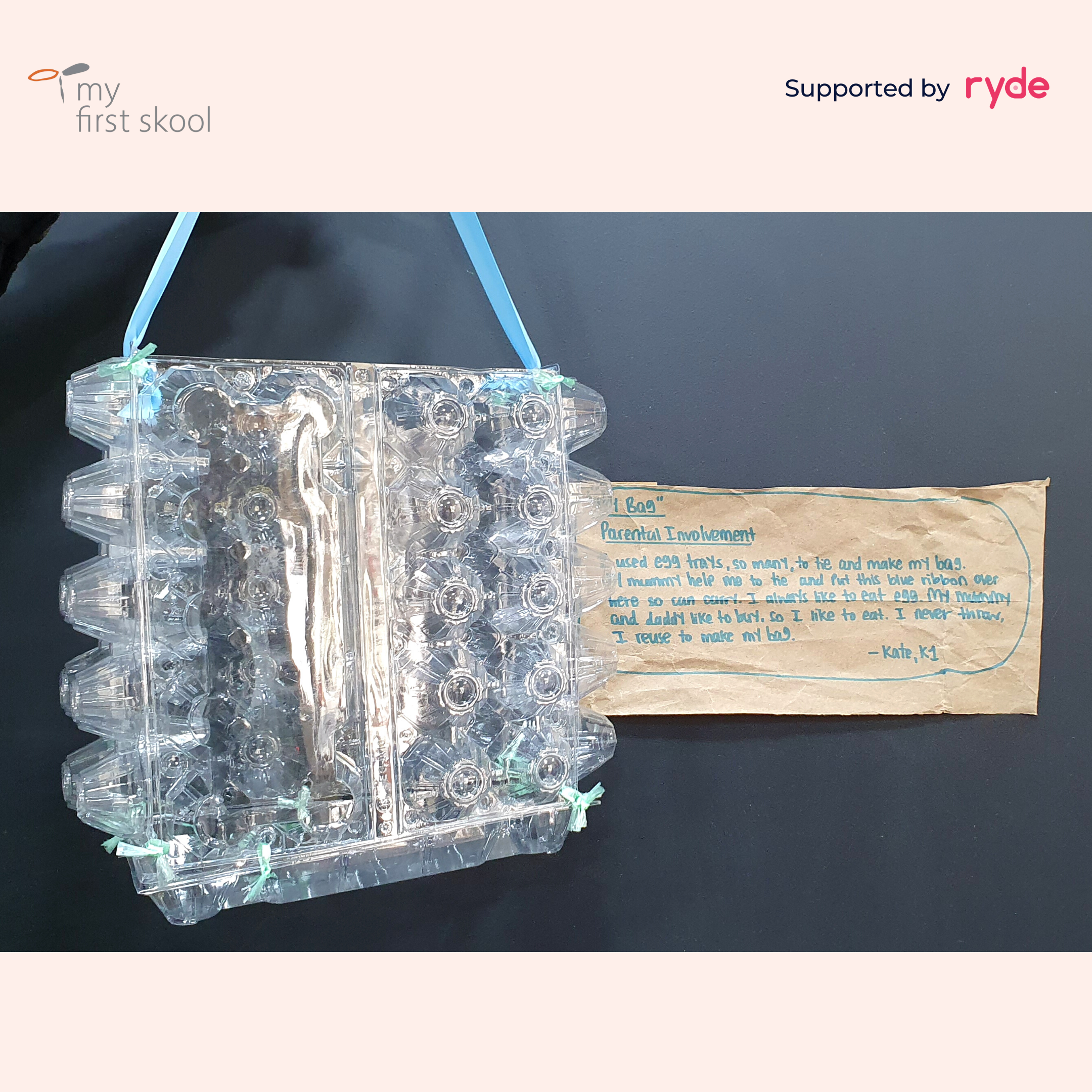 A project to recycle by crafting a bag with ribbon handles, how wonderful!
Artwork credit to Kate Yang Xuan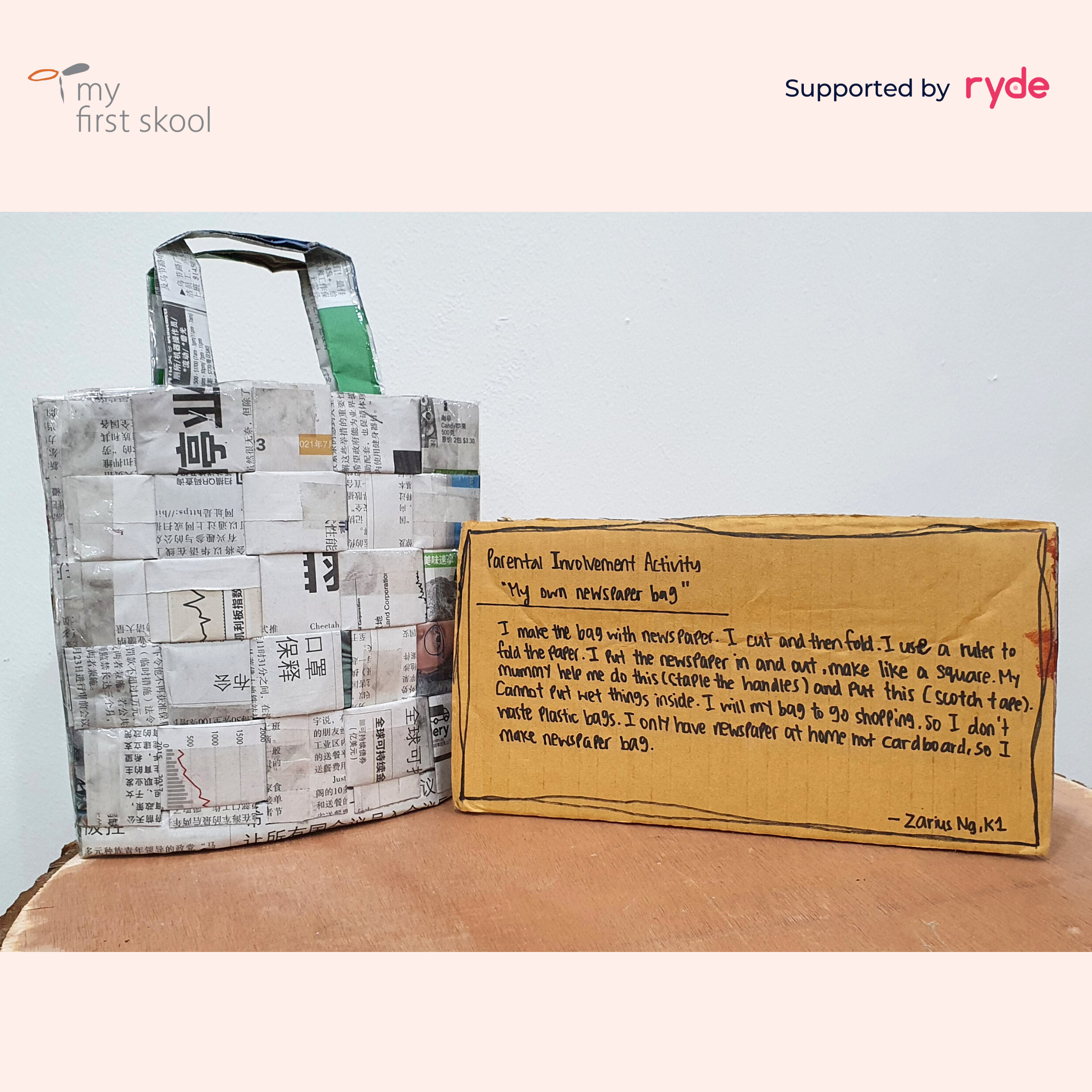 A masterfully weaved bag made from newspaper to carry your goodies in.
Artwork credit to Zarius Ng Kai Wei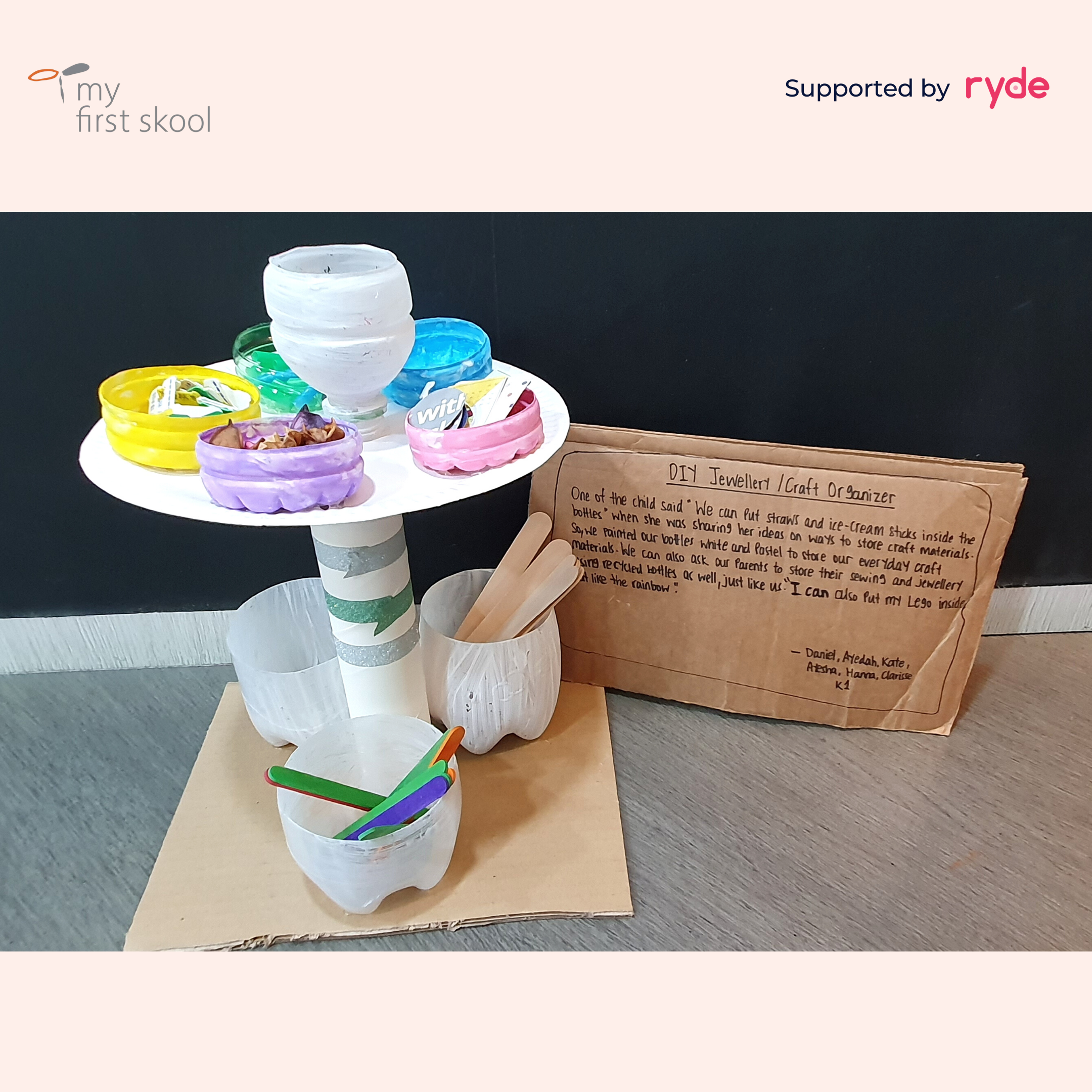 The result of great team effort? A beautiful jewellery holder to display your favourite accessories.
Artwork credit to Daniel Zhang Zhaohan and Ayesha Nur Binte Indra Shahrir

Can't go wrong when you follow the 3R's – Reduce, reuse, recycle!
Artwork credit to Cayvan Tan Yan Yu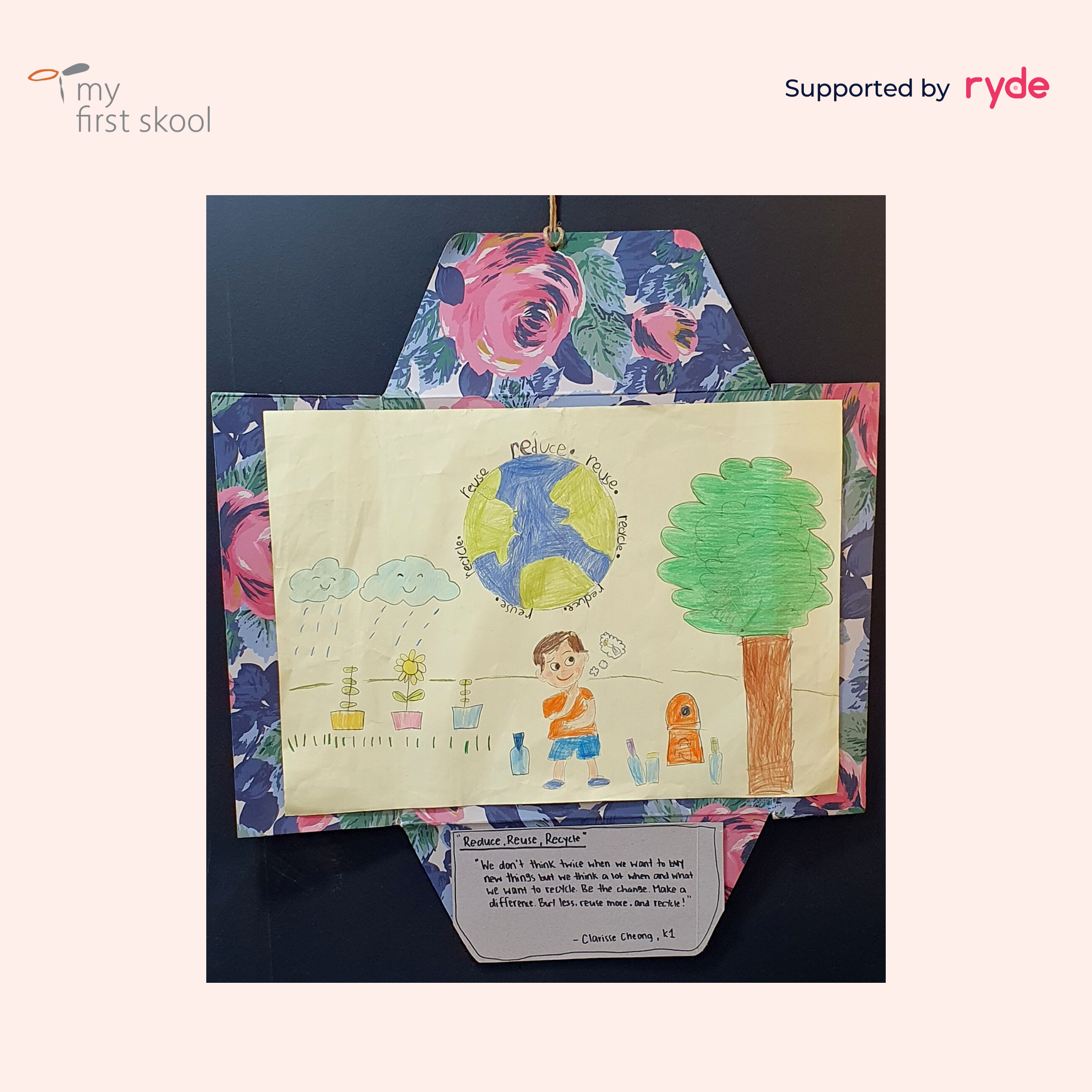 Let's think twice before making a purchase, is it a want or a need?
Artwork credit to Clarisse Cheong Siu Haam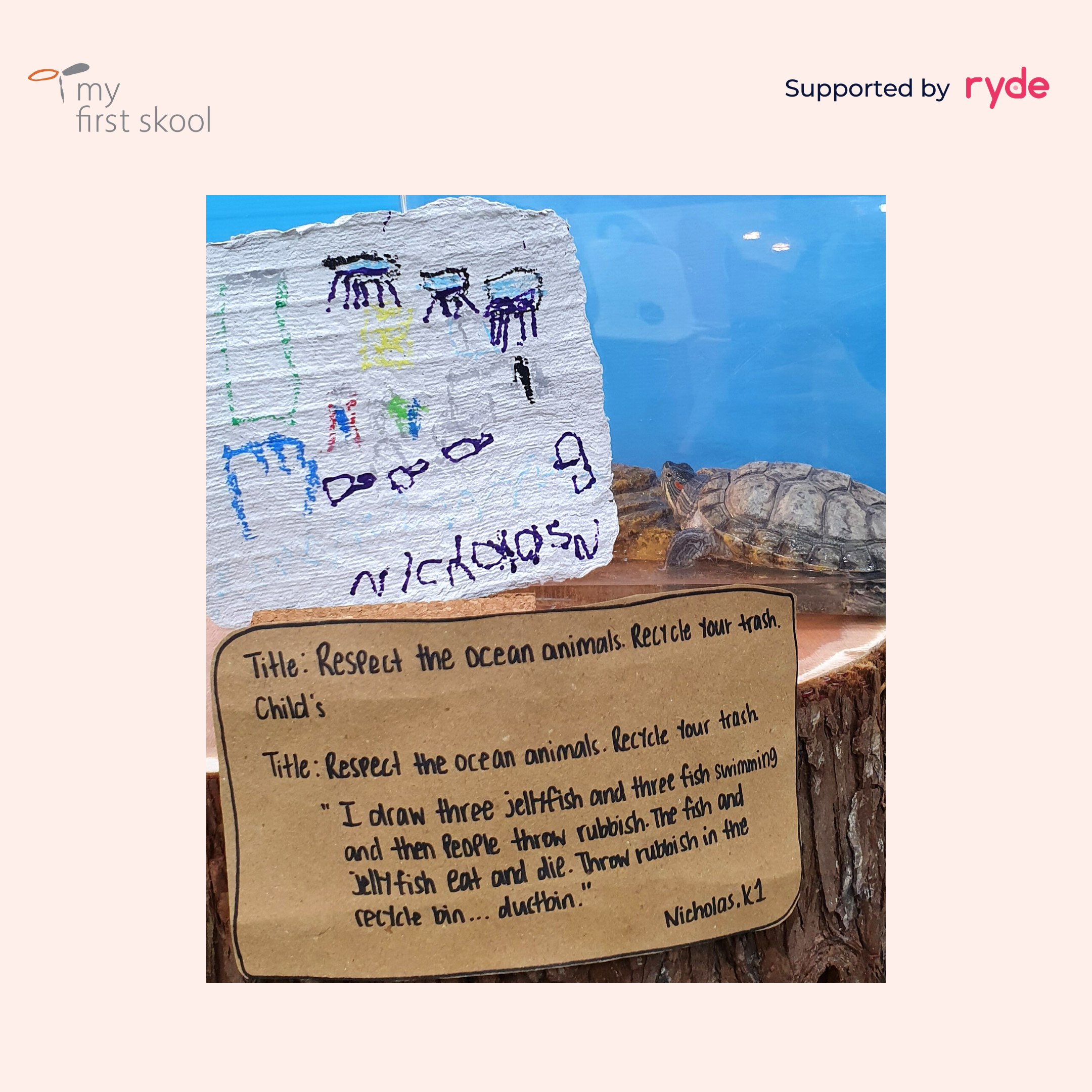 We can't forget about marine life, they're just as important as our Orangutan friends!
Artwork credit to Ng Shun Jie Nicholas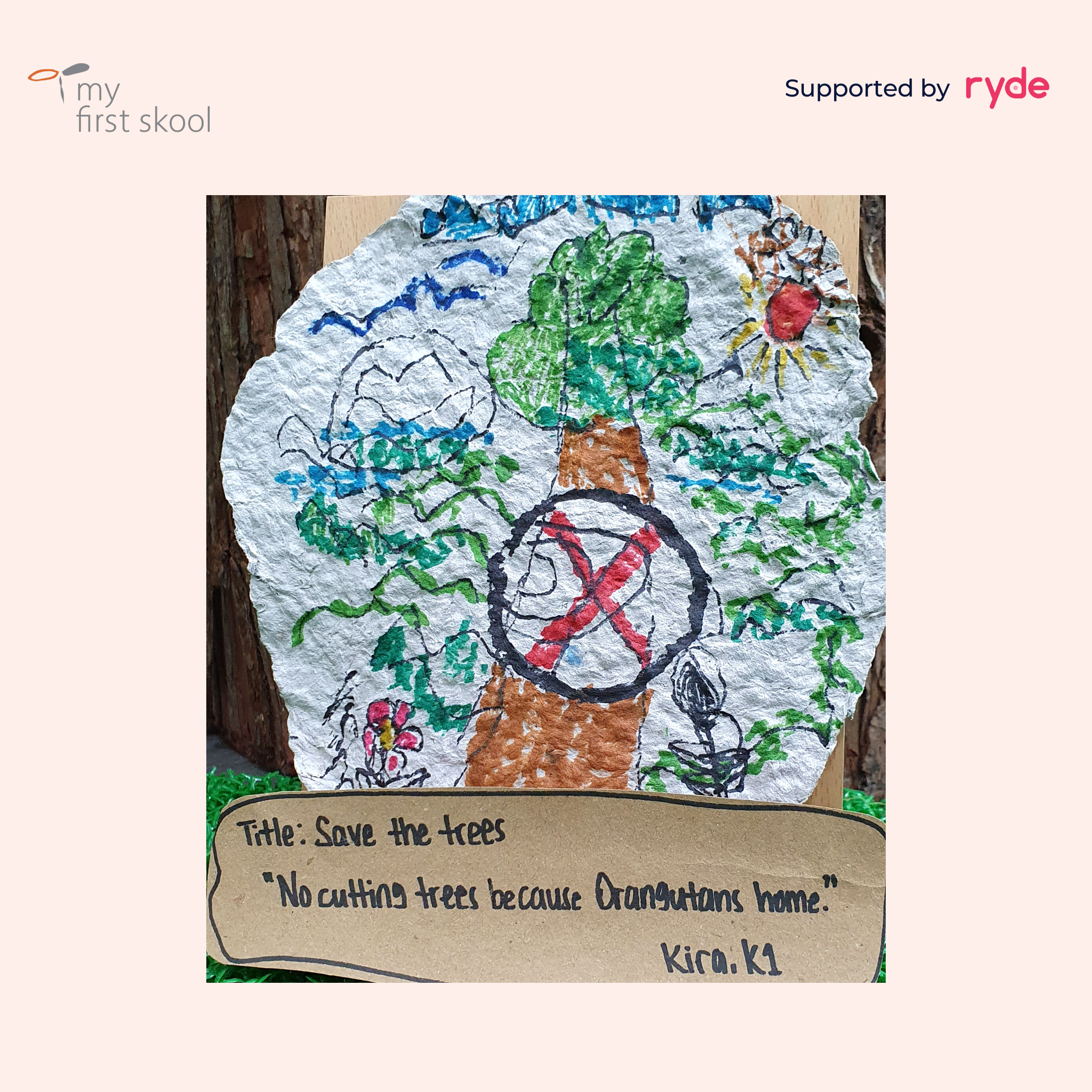 Respecting our mother nature should be our priority, we should not destroy the homes of animals.
Artwork credit to Pan Yijun Kira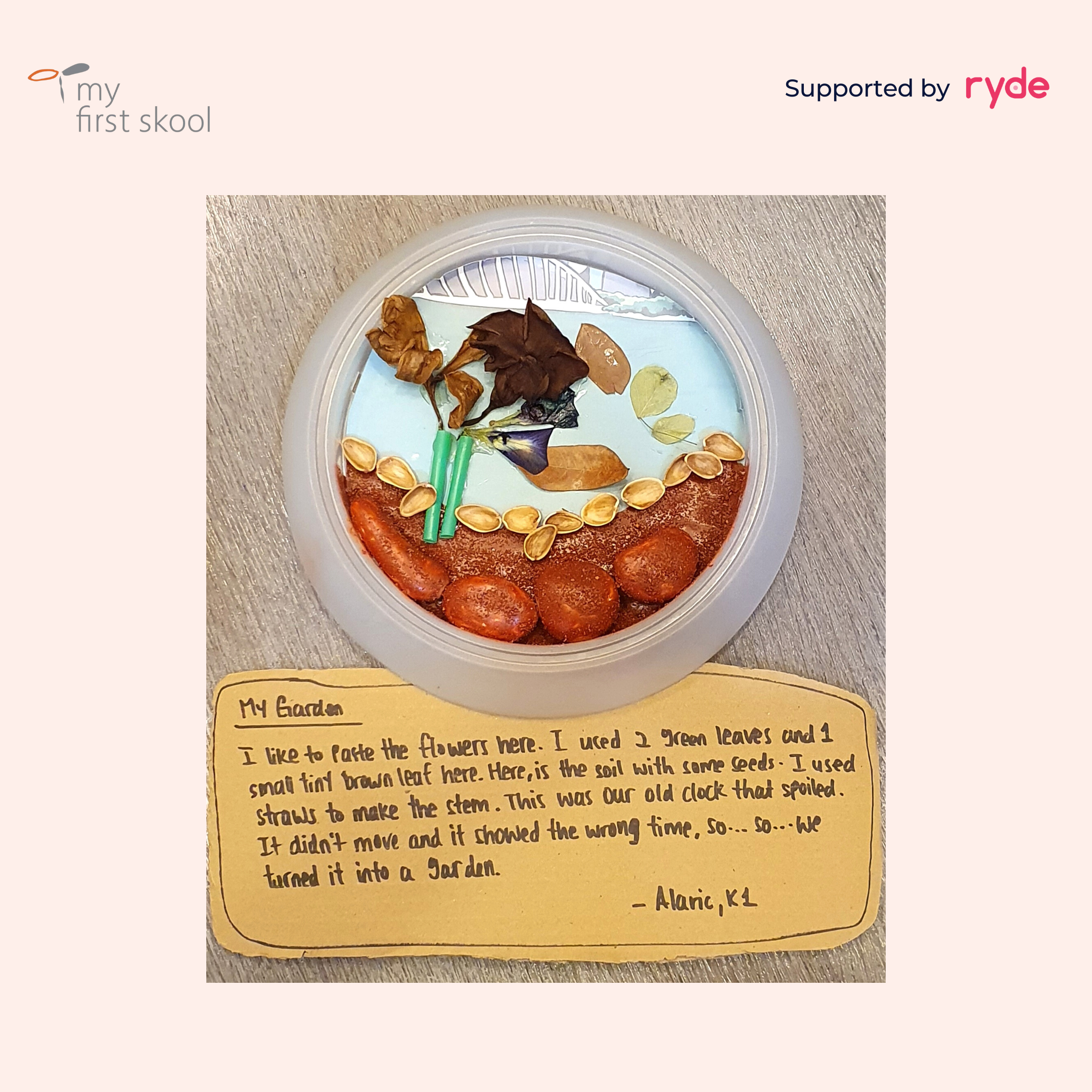 Thinking out the box by using his recycled clock frame to plan a mini garden of his own.
Artwork credit to Soon Jun Bo Alaric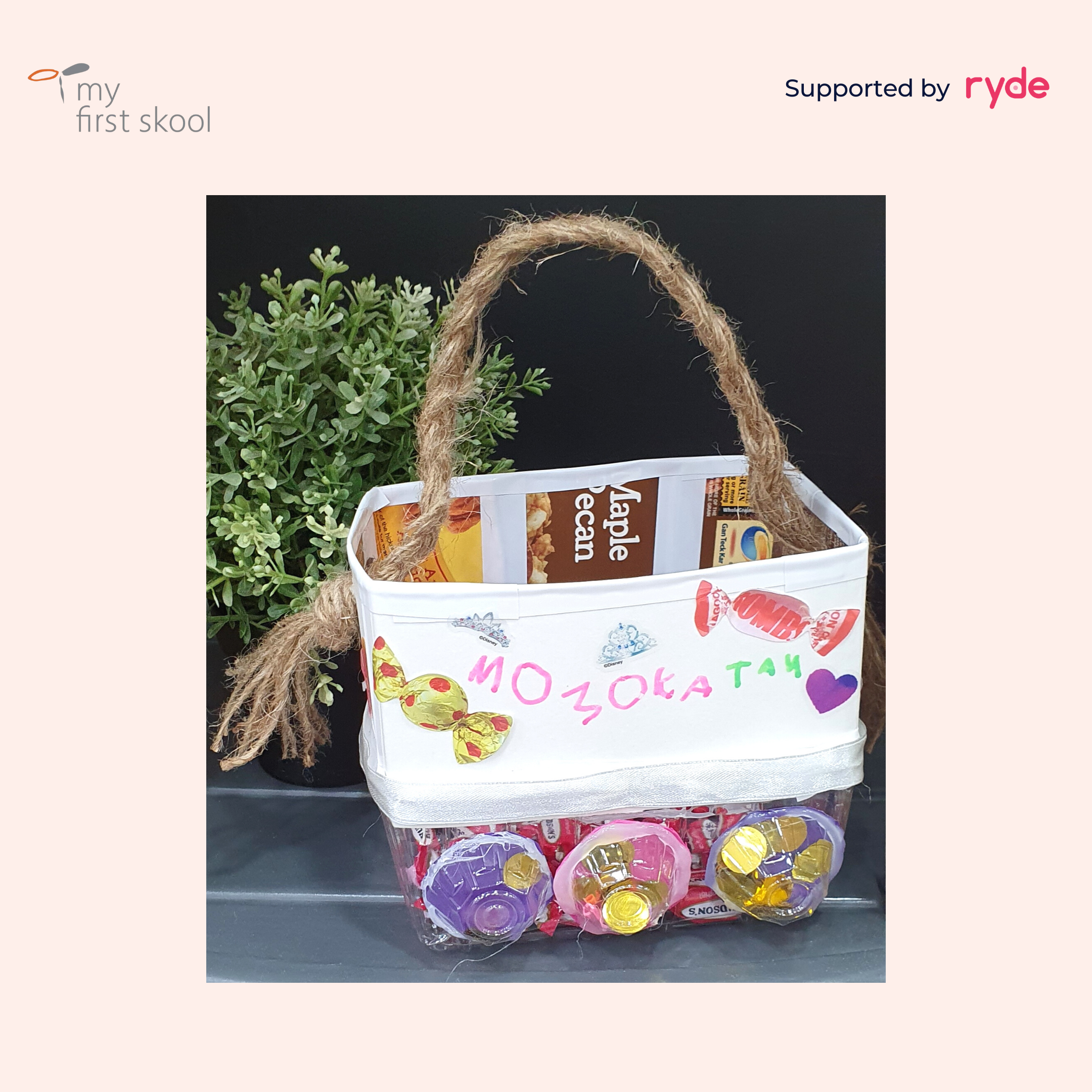 Where creativity meets talent, Tan designed a bag by using recycled materials from everyday items.
Artwork credit to Tan Momoka Grace Mori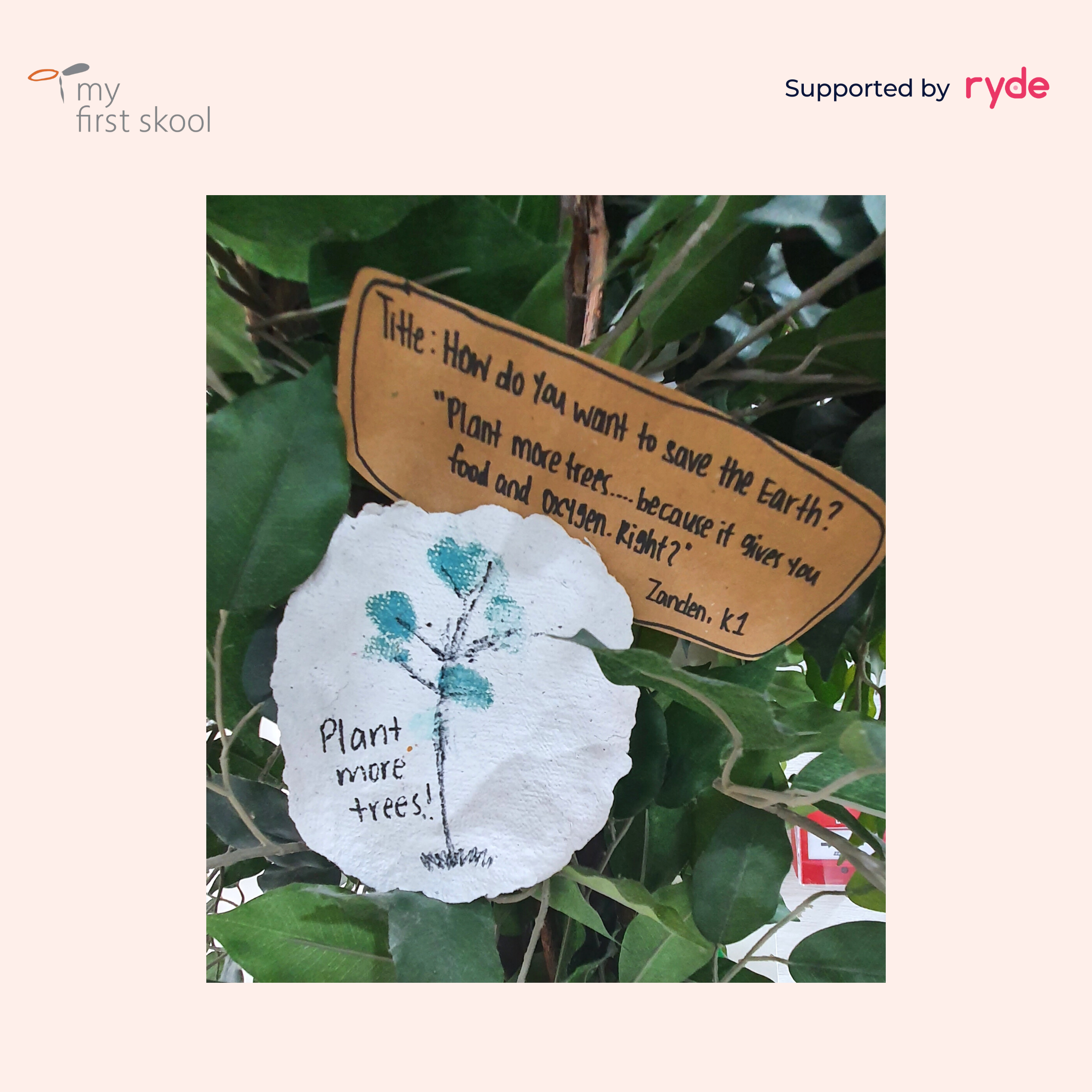 The nature has never been so calm, Lee urges for us to plant more trees for a better supply of oxygen!
Artwork credit to Lee Dao Zhe Zanden