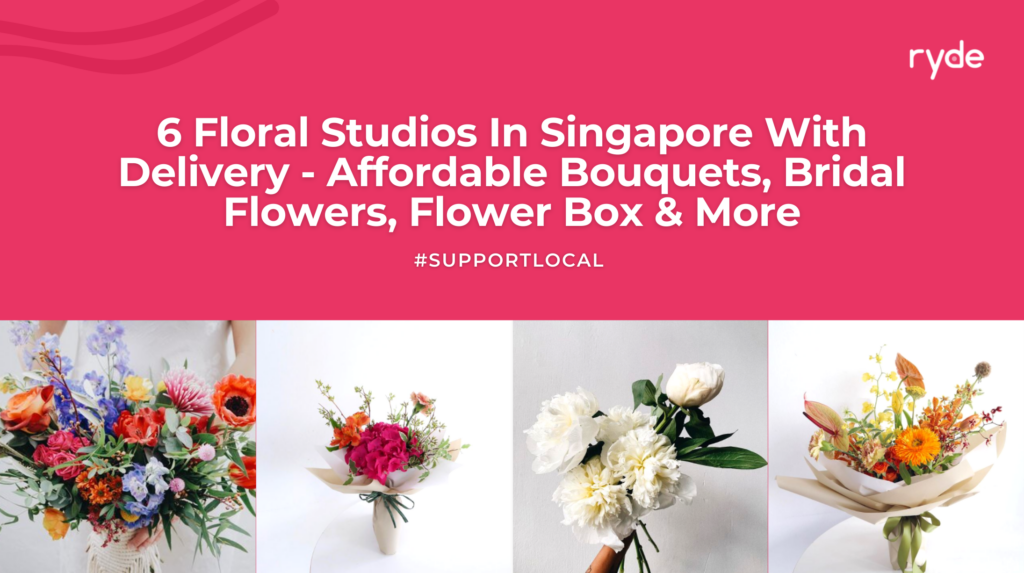 At Ryde, community and morality are the heart of what we do. In an extension to Ryde Supports Hawkers – where we supported older hawkers by buying lunch for our drivers, we want to champion our local small businesses who are facing the same challenges.
If you are looking for reliable flower delivery in Singapore, we got you covered. Baby showers, anniversaries, birthdays and dinner parties are perfect occasions for flowers. Show your loved one appreciation by surprising them with a beautiful flower arrangement! We can all agree that a beautiful bouquet of flowers is always such a mood enhancer.
1. Deer Petals
Deer Petals offers a range of current picks, customised bouquets and classic bouquets that are handpicked and designed by their florists. Their flowers are picked upon orders, and at affordable prices without compromising on service and quality of each bouquet. We also note that Deer Petals recognises the importance of sustainability by practicing methods of reducing plastic waste while keeping their bouquet wrap simple and elegant.
Their bouquet collection starts from the Current Pick ($49) to Fabulously Big ($180). In addition, there are also the Classic Series of bouquets that are available on their website. These include the Sunny Days Bouquet ($160) which is a mix of sunflower, holland carnation, spray roses and Red Romance Bouquet ($110) which includes 18-20 stalks of red roses paired with eucalyptus.
Deer Petals offers free delivery between 11am to 6pm daily however, if you would like to get your bouquets delivered on the same day, please order them before 1pm so that they have ample time to prepare and arrange them for delivery.
Socials: Facebook | Instagram
How To Order: Order via their website here
Try RydeSEND today!

What is RydeSEND?
RydeSEND is an on-demand point to point delivery service for both business and personal delivery needs. Users can make a RydeSEND booking and have their items picked up and sent to an allocated receiver within 50 minutes for 1 location. Users can also add up to 3 different destinations in a single trip with differing delivery windows. Delivery fees are calculated based on distance and are subject to surging from high demand.