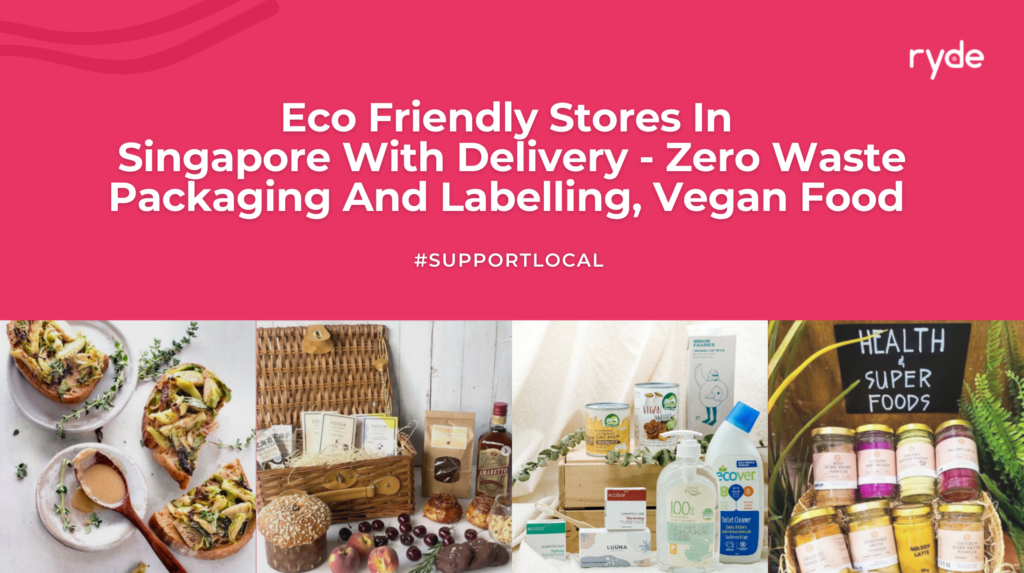 At Ryde, community and morality are the heart of what we do. In an extension to Ryde Supports Hawkers – where we supported older hawkers by buying lunch for our drivers, we want to champion our local small businesses who are facing the same challenges.
Let's do our part to fight climate change and move into a more sustainable lifestyle. Apart from switching plastic straws to metal or glass straws, shopping at an eco-friendly store is also another great way to support sustainability. Read on for our curation of eco-friendly stores in Singapore that support environmentalism.
1. Souley Green
Launched in 2016, Soulely Green is Singapore's first vegan mart that provides plant-based and cruelty-free alternatives for the conscious consumer. You may choose filter items based on practices such as locally made, zero waste, cruelty free and more. Products offered in Souley Green are meticulously sourced around the globe to meet the needs of their community – ranging from food to beauty, to household products, etc.

Other than providing you with plant-based products, Souley Green also offers a variety of recipes to whip up a good vegan meal especially when you're working from home! You may place your orders through their website and get them delivered to your doorstep within 3 working days or collect them yourself at the address below.

What's more is that they have a membership programme that allows shoppers to earn points, redeem rewards and work their way up tiers! Start shopping today and be one step closer to living a conscious lifestyle!
Socials: Facebook | Instagram
Address: 107 Eunos Ave 3, #06-01 (W6012) Singapore, Singapore 409837
How To Order: Order via their website here
Try RydeSEND today!

What is RydeSEND?
RydeSEND is an on-demand point to point delivery service for both business and personal delivery needs. Users can make a RydeSEND booking and have their items picked up and sent to an allocated receiver within 50 minutes for 1 location. Users can also add up to 3 different destinations in a single trip with differing delivery windows. Delivery fees are calculated based on distance and are subject to surging from high demand.