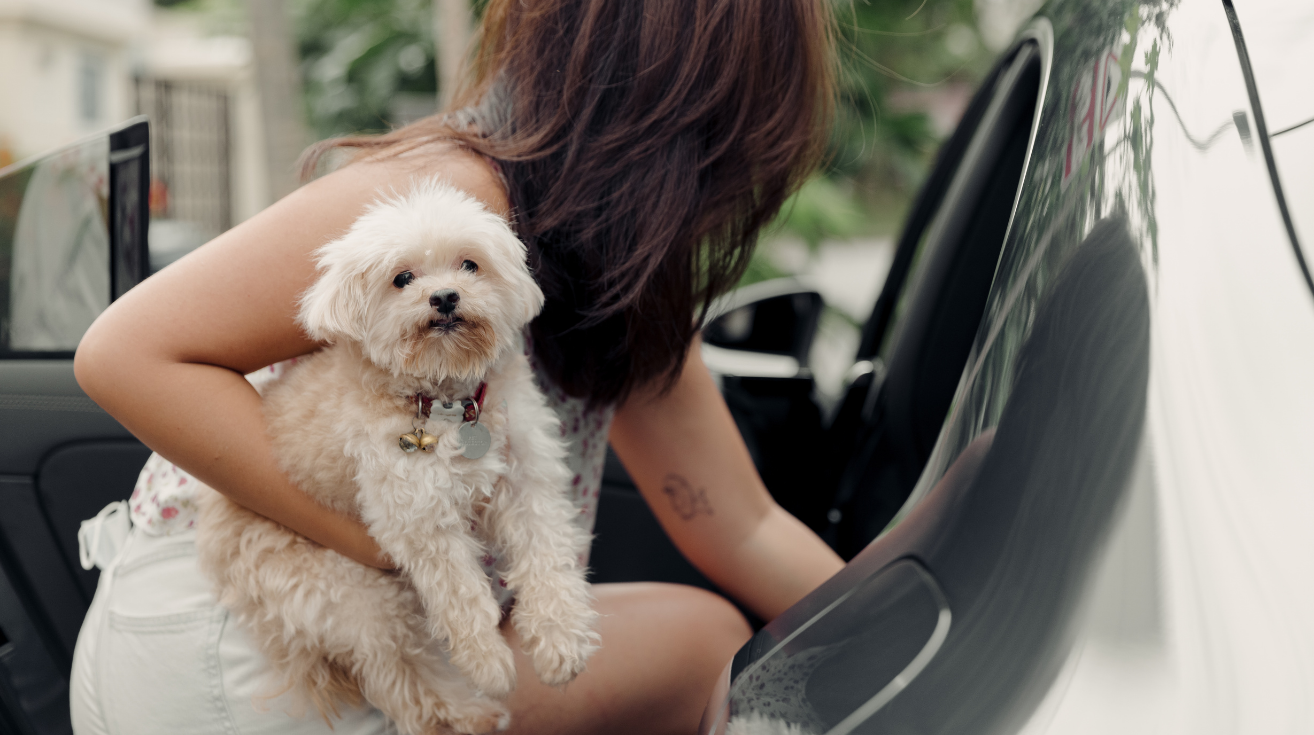 RydePET is a pet-friendly transportation service for RYDE users to travel to their destination with their pets at an affordable price. Common household pets are welcome to ride along on RydePET. This includes dogs, cats, rabbits, turtles, hamsters, birds in cages and fish in bowls or plastic bags.

RydePET allows for up to 2 riders, excluding pets. There is a maximum of 2 medium-sized pets or 1 large-sized pet on board. For example, 1 Maltese and 1 Cat or 1 Golden Retriever only. Any other arrangements will be at the driver's discretion. Please also note that animals are not insured on RydePET rides.
What if my pet soils the car?
You may be subjected to a fee of up to $70 which is payable to drivers if a mess is made in the car that requires professional cleaning to remove. E.g. A permanent / semi-permanent stain, vomiting etc.
If you are unable to make payment immediately, it is recommended that you come to a mutual agreement with your driver on how the payment will be made within 2 working days, where both parties are agreeable and comfortable. E.g. DBS PayLah / PayNow, Inter-bank transfer.
The driver will furnish you with a cleaning receipt once payment is made.  Any remainder will be refunded to you. If a mutual agreement with the driver is unable to be made within 2 working days, Ryde will contact you with the cleaning receipt to make payment to the driver. Your Ryde account will be suspended until the payment has been made.
Do note however that Ryde is not responsible in bearing the cost of the cleaning fee.
How do I make a booking for RydePET?
To book a RydePET trip, follow these 4 simple steps:
Step 1: Tap on the RydePET icon in the Ryde App.
Step 2: Fill in the details of your pick up and drop off point.
Step 3: Tap 'Options' and indicate your pet type under "Note to Driver" and tap 'Confirm'. (e.g. Dog/Cat/Hamster)
Step 4: Book your RydePET trip!
Who can accept RydePET trips?
Approved Ryde private-Hire and taxi drivers are eligible to accept RydePET trips. RydePET caters specifically to pets and our aim is to create a safe and comfortable journey for both the riders and drivers. Please ensure that you are comfortable with the most common household pets.
Bring along a carrier for your pet(s) if possible.

Consider preparing towels or a seat cover if needed to keep our drivers' cars clean.

Refrain from feeding your pet any food, snacks or even water during the ride to avoid dirtying the space that is also meant for other passengers.